Seth Raynor Applies his Templates to Metairie Country Club
By 1922, Seth Raynor was one of golf's most prolific and celebrated architects, learning his trade under the tutelage of CB McDonald. Though less known today than some of his contemporaries like Ross, Makensie and Tillinghast, Raynor left a body of work that is arguably as good as any of them. Had he not succumbed to pneumonia at the height of his career, he may have well surpassed them all in stature. Raynor is credited with over 100 solo designs, collaborations and renovations. Many of his designs are well recognized by golf's cognoscenti as masterpieces of the game. Fisher's Island, Camargo, Yeaman's Hall, and the Shoreacres Club all regularly rank in US and World "Top 100" lists.
After working with stunning landscapes all over the world, one can only surmise that Seth Raynor was quite underwhelmed with the flat, 120 acre parcel he was presented with in Metairie, Louisiana. Undaunted, he gave the members an understated gem, and South Louisiana's only golf course with a direct connection to Golden Age Architecture. Raynor, like his mentor, is best known for his use of "template" holes in his designs. Templates are "homages" to the great holes of classic golf links. Metairie Country Club gave him a blank canvas with which to work, and he applied his templates and brilliant bunkering with an artist's flair.
I was fortunate enough to play a recent winter round at Metairie Country Club and I wanted to share some pictures and insights with our readers about some of Raynor's Template holes, in the hopes they might recognize and further appreciate the influence of these same design features when they're out playing more modern courses.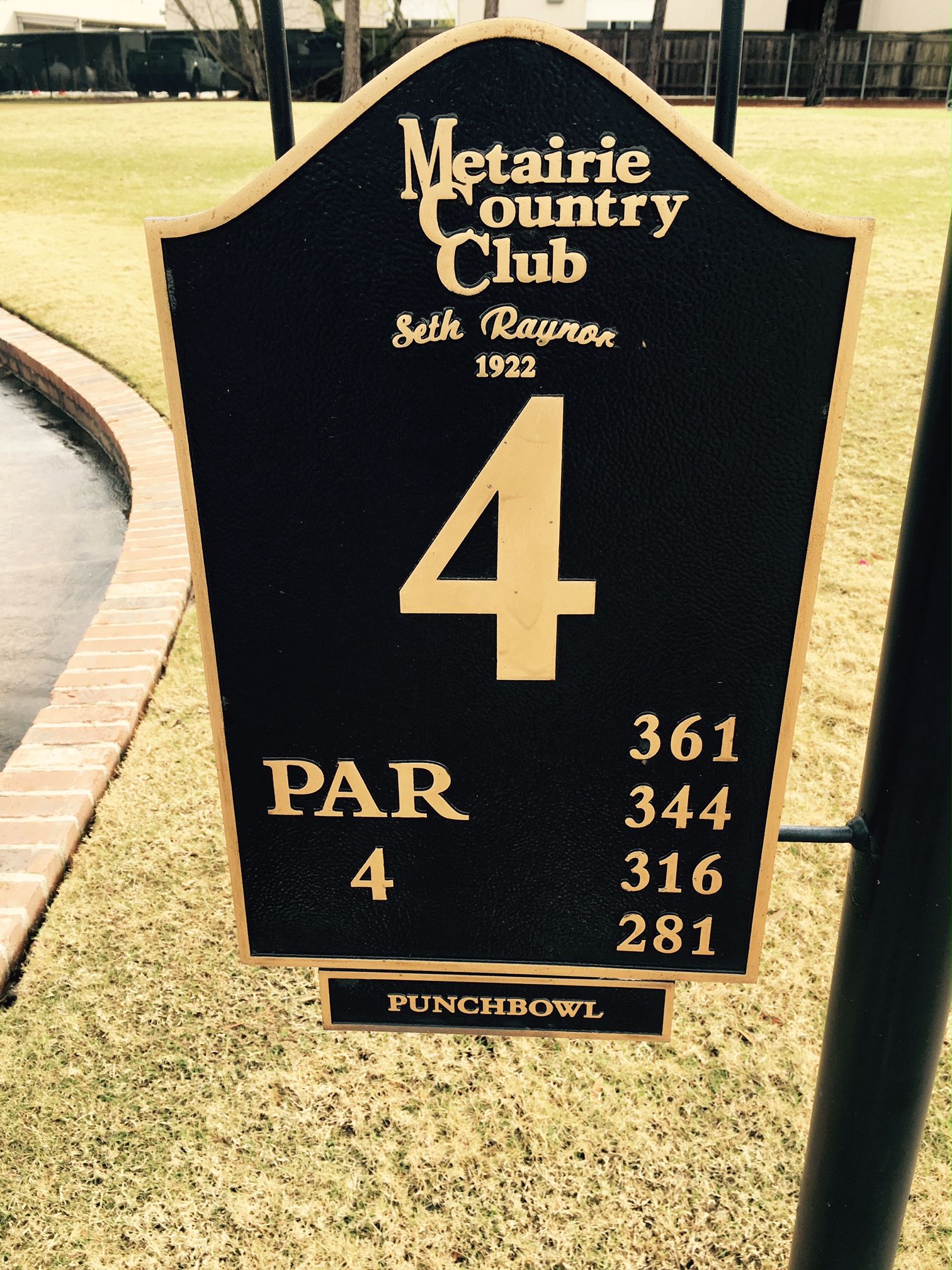 The first template hole of note at MCC was "The Punchbowl" 4th. This was both my playing partner's (PGA professional BJ Antill) and my favorite hole on the golf course, and we'd gladly have replayed this hole this hole over and over again. A punchbowl green sits in a depression where the higher ground surrounding it feeds the ball towards the hole. MCC's Punchbowl plays as a short-ish dog leg par-4. The Pro and I both took less than driver off the tee to position ourselves for short iron approaches. The green allows the player to use their imagination and skill to shape shots off the mounds surrounding the green. A miscalculation however leaves a devilish, but exceedingly fun putt or chip into this wildly contoured green.
The 7th hole pays tribute to St Andrew's famous 11th hole "Eden" and is one of the most used templates in all of golf. A mid-range Par-3 that plays to a steeply elevated green, sloping from the back to front. A narrow entry is flanked by two deep bunkers that guard the front and sides from errant shots.
Also drawing inspiration from the Old Course, Raynor applied the "Road Hole" template twice at Metairie Country Club, the first of which comes at the Par-5, 9th hole. While there is no blind drive over a wall as with original, the green presents players with a similar, cavernous fronting bunker that swallows mishit tee shots.
A Redan Hole, is typically a Par-3 green that starts with a high, front right plateau that slopes away from the player on a bias to a lower left portion and is protected by a fronting bunker. The genius, and fun of the hole is watching a golf ball pitch onto the front portion, then funnel to the back position using the slope of the green. At MCC's 12th, Raynor chose a "reverse Redan", with the high front coming on the left and sloping to back right. The effect is the same, and it's a masterful hole.
Hole 14, a reachable Par-5, is a fine example of a Double Plateau or "Biarritz". As indicated by the moniker, the Double Plateau green features two raised sections, connected by a pronounced swale. When conditions are firm enough to allow, there is perhaps no greater joy in golf then watching a running shot disappear into the a swale of a Biarritz green and then reemerge, slowed by its climb from the deep, to nestle besides the flag on the far rise.
I've listed just a few of the templates at Metairie Country Club here, but every hole has its own subtle charm. If you're able to get a tee time there, don't go to MCC looking to be wowed by extreme golf holes. Go to appreciate the work of a master artist from a different era. Go to learn why well-placed bunkers and artful green complexes are so much better than excessive water and ridiculous length at defending a golf course. Go to play a carom shot off the punch bowl. Go to challenge the road bunker and to feed a cut shot down the slope of the Redan. Go and let it connect you to the heritage of golf. Go, and you'll be glad you did.